Levitra vs Viagra - Which One Comes Out on Top?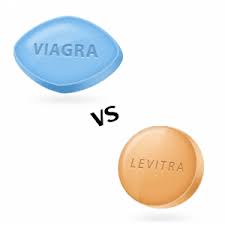 So you're comparing Levitra vs Viagra to decide which one is a better choice for treating erectile dysfunction.  Which one should you take?  Let's compare the two to help you make a more informed decision.
A Brief Overview of the Two Options
As you are probably aware, Viagra was the first oral ED medication brought to market.  Originally intended as a treatment for hypertension (high blood pressure) and angina (chest pain), researchers found that one of the "side effects" of the active ingredient, sildenafil citrate, was increased erections.
Since the medication showed little promise in treating heart related problems, the manufacturer Pfizer decided to shift the focus, aiming its new drug at the erectile dysfunction market.  Fast forward to 1998, and Viagra is approved by the FDA as an effective solution for impotence.
About 5 years later, Levitra was introduced by Bayer, GlaxoSmithKline and Schering-Plough, all heavy hitters in the pharmaceutical drug industry.  It contains a different active ingredient, vardenafil hydrochloride, although it is the same class of medication (PDE5 inhibitor) and works in a similar fashion.
Both sildenafil citrate and vardenafil hydrochloride act to enhance the effect of NO2, nitric oxide, a compound that relaxes the muscles in the penis, thus improving blood flow and facilitating an erection more readily.
Let's look at the medications side by side...
Levitra and Viagra - Head to Head Overview
| | | |
| --- | --- | --- |
| | Levitra | Viagra |
| Pill | round orange | round blue |
| Active Ingredient | vardenafil | sildenafil citrate |
| Uses | ED | ED |
| Dosages | 2.5mg-20mg | 25mg to 100mg |
| Costs | $30-40/tablet | $35-55/tablet |
| How often? | 60 minutes prior | 60 minutes prior |
| How long does it last? | 4-8 hours | up to 6 hours |
| Affected by food? | no | yes, take on empty stomach |
| Common side effects | headache, flushing,  stuffy nose, indigestion, upset stomach, dizziness, back pain | headache, upset stomach, vision color changes, blurred vision, muscle/back pain, nausea, dizziness, rash |
| Uncommon serious side effects | Priapism (erection that doesn't go away), color vision changes. loss of vision/hearing | Priapism (erection that doesn't go away), vision loss, hearing loss |
| Success rate | 70-80% | |
| Is there a generic? | Yes, probably end of 2018-2019 | Yes, probably mid 2018 |
| Interactions | Nitrates, guanylate stimulators, alpha blockers, blood pressure meds, some antibiotics | Nitrates, guanylate stimulators, alpha blockers, blood pressure meds, some antibiotics |
Which is the best option?
When you compare Levitra vs Viagra, it is a very close race.  When we put Cialis up against Viagra, the winner was a little more clear cut.  But here they are much more similar.
Levitra comes in lower dosages, which is always more preferable.  It also tends to be a little cheaper than Viagra, although prices definitely vary.
It is recommended that both medications be taken about an hour before you anticipate becoming intimate, but Levitra is not affected by food the way Viagra is, so that's certainly an advantage.  Taking Viagra with food may lessen its effectiveness.
Another advantage of vardenafil vs sildenafil is that it remains in your system a little longer, about 4-8 hours vs up to 6 with Viagra.  So that's certainly an advantage.  It's important to note here that Cialis lasts up to 36 hours, so if you are planning an extended romantic interlude, that one might be your best choice.
However, with a medication remaining in your system, there is more of a chance of interaction with other medications you may be taking.  So that's always something to consider.
So it looks like when it comes to Levitra vs Viagra, the former has it beat in most categories.  It costs less, it lasts longer and you can take a lower dosage.  However, Viagra has been around a lot longer, has been tested more and has a very high success rate.
As such Viagra does remain the most popular of the three big ED medications, as it has that brand name cache.  It's the first medication people think of when it comes to erectile dysfunction, and the one most people ask for when they seek medical attention.
What's the bottom line with Levitra vs Viagra?
Although it seems like Levitra is the better option, and has Viagra beat in many categories, it comes down to what your doctor recommends as the best solution for you.
The medications are similar in their actions, but one formulation may be better/safer for you based on your current health, medical history and any medications you are taking.