MUSE is an Alternative Option When Medications Don't Work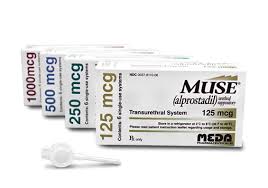 MUSE® stands for "medicated urethral system for erection" and is one of the latest additions to the range of treatments available for male impotence.
MUSE was developed by Vivus, a Californian company, in 1997. It consists of a small specially designed plastic plunger that inserts a small pellet, the size of a grain of rice, into the urethra (the canal inside the penis where urine and semen are passed). 
The active ingredient in MUSE is alprostadil, which is absorbed by the erectile tissue in the penis. 
Alprostadil is a form of synthetic prostaglandin, a naturally occurring hormone found in the penis, which dilates the blood vessels and creates an erection. Alprostadil is one of the active ingredients used in impotence injections.
MUSE is an effective treatment for men with vascular disease, diabetes or heart disease who are unable to take one of the oral medications such as Viagra, or where other impotence treatments have failed.
Deciding on the best form of treatment for impotence depends on a number of factors, including your health and physical tolerance, and your personal choice, so it's best to speak with your doctor first.
To compare MUSE with other impotence treatments, and to help you make an informed decision about the best form of treatment for you, we've included a comprehensive comparison table. 

How do you use MUSE For ED?
Before the pellet of alprostadil is inserted the manufacturer recommends urination and then a gentle shake of the penis to remove excess urine. Insertion of the MUSE pellet is easier, and absorption of the alprostadil is faster if the urethra is moist.
An elasticized band is sometimes placed around the base of the penis before the pellet is inserted to ensure the alprostadil remains in the penis. After insertion, it's recommended that the penis is massaged gently to disperse the medication and speed up the process of absorption.
MUSE usually starts to take effect within 5 to 15 minutes and lasts for up to 60 minutes.
Medical specialists often recommend that the first trial of MUSE take place in their surgery. By doing this, the physician can ensure that the correct procedure is followed and the correct dosage is prescribed.
Are there any precautions or side effects to contend with?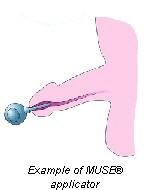 Please be aware of the fact that MUSE is reported to be effective in only 30-60% of men.
It should not be used where there is a health risk if you engage in sexual activity, hypersensitivity or allergic reaction to alprostadil, any deformity of the penis (Peyronie's Disease, cavernosal fibrosis or angulation), sickle cell anemia, leukemia (cancer of the blood cells) or multiple myeloma (cancer of the bone marrow).
MUSE should not be used for sexual intercourse with a pregnant woman unless a condom is used.
It is recommended that patients not drive for at least an hour following application of MUSE.
What about side effects?
All drug therapies have some side effects, although there have been very few reported with MUSE. The side effects reported include:
Some minor discomfort, including slight throbbing and burning sensation during and immediately following insertion. This is usually reported by men when MUSE is first used. (Urinating prior to insertion helps overcome this).
There have been very rare reports of men fainting following the first dose.
Dizziness and rapid pulse have been reported.
Female partners have reported mild vaginal itching.
What's the bottom line on MUSE?
If other non-drug treatment options for impotence are not working for you then MUSE might be a viable choice for you.  
Obviously most people would rather take a supplement or pill rather than insert a pellet every time they want to get intimate, but sometimes you have no choice and the reward is worth the discomfort.
You should definitely talk to your doctor first to see if you are a candidate for this treatment and decide if it's right for you.