Romance Quotes
A collection of thoughts to help you feel the love.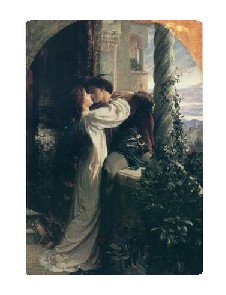 We were two and had but one heart.
~ Francois Villon ~
And think not you can
Direct the course of love,
For love,
If it finds you worthy,
Directs your course.
~ Kahlil Gibran ~
So dear I love him that with him,
All deaths I could endure.
Without him, live no life.
~ William Shakespeare, (Romeo and Juliet) ~
The greatest healing therapy is friendship and love.
~ Hubert Humprey ~
Love is a wonderful thing.
You never have to take it away
From one person to give it to another.
There's always more than enough to go around.
~ Pamela de Roy ~



I have loved to the point of madness;
That which is called madness,
That which to me,
Is the only sensible way to love.
~ Francois Sagan ~
My love for you is a journey;
Starting at forever,
And ending at never.
~ Author Unknown ~
Love asks me no questions,
And gives me endless support...
~ William Shakespeare ~
Love is like a friendship caught on fire.
In the beginning a flame, very pretty,
Often hot and fierce,
But still only light and flickering.
As love grows older,
Our hearts mature
And our love becomes as coals,
Deep-burning and unquenchable.
~ Bruce Lee ~
I have learned not to worry about love;
But to honor its coming with all my heart.
~ Alice Walker ~



Seduce my mind and you can have my body,
Find my soul and I'm yours forever.
~ Author Unknown ~
Love and desire are the spirit's wings to great deeds.
~ Johann Wolfgang von Goethe ~
She walks in beauty,
Like the night of cloudless climes and starry skies;
And all that's best of dark and bright
Meet in her aspect and her eyes.
~ Lord Byron ~
He is not a lover who does not love forever.
~ Euripides ~
A fool in love makes no sense to me.
I only think you are a fool
If you do not love.
~ Author Unknown ~
One word frees us
Of all the weight and pain in life,
That word is Love
~ Socrates ~



Soul meets soul on lover's lips.
~ Percy Bysshe Shelly ~
Your voice makes me tremble inside
And your smile is an invitation
For my imagination to go wild.
~ Author Unknown ~
To be in love is merely to be
In a state of perpetual anesthesia:
To mistake an ordinary young man for a Greek god
Or an ordinary young woman for a goddess.
~ H.L. Mencken ~
There is no remedy for love but to love more.
~ Henry David Thoreau ~
Other men said they have seen angels,
But I have seen thee
And thou art enough.
~ G. Moore ~
I love thee, I love but thee
With a love that shall not die
Till the sun grows cold
And the stars grow old.
~ Willam Shakespeare ~
I have been astonished that men could die martyrs for their religion -
I have shudder'd at it.
I shudder no more.
I could be martyr'd for my religion
Love is my religion
And I could die for that.
I could die for you.
~ John Keats ~



To love a person is to learn the song
That is in their heart,
And to sing it to them
When they have forgotten.
~ Author Unknown ~
When you love someone, all your saved-up wishes start coming out.
~ Elizabeth Bowen ~
The best and most beautiful things in this world cannot be seen or even heard, but must be felt with the heart.
~ Helen Keller ~
But true love is a durable fire,
In the mind ever burning,
Never sick, never old, never dead,
From itself never turning.
~ Sir Walter Raleigh ~
Some people come into our lives and quickly go.
Some people move our souls to dance.
They awaken us to new understanding with the passing whisper of their wisdom.
Some people make the sky more beautiful to gaze upon.
They stay in our lives for awhile, leave footprints on our hearts,
and we are never ever the same.
~ Flavia Weedn ~
Romance is the glamour which turns the dust of everyday life into a golden haze. ~ Elynor Glyn ~

To discover all the delightful, romantic and inspiring articles in this section, visit the following pages...
| | | | |
| --- | --- | --- | --- |
| | Impotence and Women | | The Psychology of Impotence |
| | Impotence and Partners | | Female Sexual Dysfunction |
| | Women and Viagra | | Romance Quotes |
| | Love Quotes | | Romantic Love Quotes |
Impotence-Guide.com HOME