Love Quotes
Aristotle to Anonymous, Shakespeare to
Steve Winwood, Corinthians to Keats.
A beautiful collection of romantic love quotes...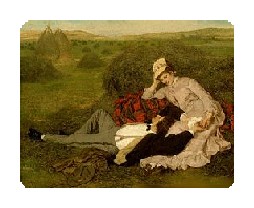 For it was not into my ear you whispered, but into my heart. It was not my lips you kissed, but my soul.
~ Judy Garland ~
Romantic love reaches out in little ways, showing attention and admiration. Romantic love remembers what pleases a woman, what excites her, and what surprises her. Its actions whisper: you are the most special person in my life.
~ Charles Stanley ~
To fear love is to fear life, and those who fear life are already three parts dead.
~ Bertrand Russell ~
Love means to commit oneself without guarantee, to give oneself completely in the hope that our love will produce love in the loved person. Love is an act of faith, and whoever is of little faith is also of little love.
~ Erich Fromm ~
There is no remedy for love but to love more.
~ Henry David Thoreau ~


My heart to you is given:
Oh, do give yours to me;
We'll lock them up together,
And throw away the key.
~ Frederick Saunders ~
You don't love a woman because she is beautiful, but she is beautiful because you love her.
~ Author Unknown ~
Love is always open arms. If you close your arms about love you will find that you are left holding only yourself.
~ Leo Buscaglia ~
There is only one happiness in life: to love and be loved.
~ George Sand ~
The most wonderful of all things in life is the discovery of another human being with whom one's relationship has a growing depth, beauty and joy as the years increase. This inner progressiveness of love between two human beings is a most marvellous thing; it cannot be found by looking for it or by passionately wishing for it. It is a sort of divine accident, and the most wonderful of all things in life.
~ Sir Hugh Walpole ~
The most powerful symptom of love is a tenderness which becomes at times almost insupportable.
~ Victor Hugo ~

Think about it, there must be higher love
Down in the heart or hidden in the stars above
Without it, life is a wasted time
Look inside your heart, I'll look inside mine.
~ Steve Winwood ~
The most precious possession that ever comes to a man in this world is a woman's heart.
~ Josiah G. Holland ~
Being deeply loved by someone gives you strength,
While loving someone deeply gives you courage.
~ Lao Tzu ~
The heart is the place where we live our passions.
It is frail and easily broken, but wonderfully resilient.
There is no point in trying to deceive the heart.
It depends upon our honesty for its survival.
~ Leo Buscaglia ~
Love does not consist in gazing at each other
but in looking together in the same direction.
~ Antoine de Saint-Exupery ~
Just because someone doesn't love you in the way you want them to,
doesn't mean that they don't love you with all they've got.
~ Author Unknown ~

You come to love not by finding the perfect person, but by seeing an imperfect person perfectly.
~ Sam Keen ~
Love is always bestowed as a gift --
freely, willingly, and without expectation...
We don't love to be loved; we love to love.
~ Leo Buscaglia ~
A man falls in love through his eyes, a woman through her ears.
~ Woodrow Wyatt ~
Inside the heart of each and every one of us there is a longing to be understood by someone who really cares. When a person is understood, he or she can put up with almost anything in the world.
~ Rev Ed Hird ~
True love begins when nothing is looked for in return.
~ Antoine De Saint-Exupery ~
Smile at each other, smile at your wife,
smile at your husband, smile at your children,
smile at each other--it doesn't matter who it is--
and that will help you to grow up in greater love for each other.
~ Mother Teresa ~

In dreams and in love there are no impossibilities.
~ Janos Arany ~
The person who tries to live alone will not succeed as a human being. His heart withers if it does not answer another heart. His mind shrinks away if he hears only the echoes of his own thoughts and finds no other inspiration.
~ Pearl S. Buck ~
Come live in my heart, and pay no rent.
~ Samuel Lover ~
Love knows no reasons,
love knows no lies.
Love defies all reasons,
love has no eyes.
But love is not blind,
love sees but doesn't mind.
~ Author unknown ~
Love is patient, love is kind. It does not envy, it does not boast, it is not proud. It is not rude, it is not self-seeking, it is not easily angered, it keeps no record of wrongs. Love does not delight in evil but rejoices with the truth. It always protects, always trusts, always hopes, always perseveres.
~ 1 Corinthians 13:4-7 ~



To discover all the delightful, romantic and inspiring articles in this section, visit the following pages...
| | | | |
| --- | --- | --- | --- |
| | Impotence and Women | | The Psychology of Impotence |
| | Impotence and Partners | | Female Sexual Dysfunction |
| | Women and Viagra | | Romance Quotes |
| | Love Quotes | | Romantic Love Quotes |