Top 10 Romantic Date Ideas To Get The Sparks Flying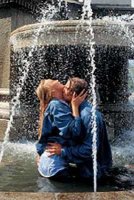 It's all too easy to take one another for granted after you've been together for a while. Easily one of the most effective ways of keeping your relationship fresh is to plan a romantic date.
It doesn't matter much where you go or what you do, simply planning to do something romantic together is half the fun.
Here are our Top 10 romantic date ideas to keep your love life thriving.

Bring back the romance with...
Plan a Romantic Dinner Together
Search the Internet for recipes that you know you'll enjoy preparing and eating. One can cook and the other prepare the table. Use your best napkins and flatware and enhance the atmosphere with fresh flowers and candles. Remember that this is time for both of you to share alone, so no TV or phones!
Play a Fun Board Game Together
When was the last time you played Monopoly together? Or you could try one of the more sensual and romantic board games found in most games shops. For an interesting alternative, play sensual Scrabble by setting a new rule that all words spelled must be about love or romance.
Have a Movie Night In or Out
If you decide to stay in for the night, choose a movie you know you'll both enjoy and snuggle up together on the sofa. You can have a pajama party and get dressed in your favorite old pj's while you relax with some yummy treats, like a bowl of freshly popped corn. Or dress up and go see a foreign film or the latest new release.
Go Star Gazing
Load up the car with a blanket, some nibbles and a bottle of wine and drive out into the country where you can lie on the blanket and look at the stars. You can choose a cluster to name and dedicate to your relationship.
Enjoy a Visit to a Museum or Art Gallery
Museums are not all boring. Look for new exhibits in a museum near you or visit the latest exhibition of paintings from a local artist. Art collections often travel the country so check your newspaper to find out if there are any currently showing in your area.
Plant a Garden Together
Make a date to plant a new section of garden in honor of your relationship. Of course, roses would be the obvious choice but you could plant a new tree or shrub. Nurture and care for it with the same love and attention you give to your relationship.
Learn Something Creative Together
Take up a new hobby that you both enjoy. You could try Asian or Cajun cooking, Chinese brush painting, Early American Folk painting or Italian lessons.
Go Hiking
Put on your hiking boots and get out into the country for some fresh air. Visit your local national park and find a hiking trail that suits your level of fitness, then blaze a trail through the countryside!
Go For a Sunset Walk
If you live near a beach, there is nothing more romantic than taking a stroll at sunset. If not, find a beautiful park or scenic area and walk hand in hand as you watch the sun set. Stop regularly to exchange kisses and hugs.
Spend a Romantic Evening Indoors
Order in your favorite takeout and run a hot, frothy bubble bath, then massage each other with a fragrant massage oil. Let the scent permeate through the bathroom while you make passionate love. If you are not doing this on a regular basis - why ever not?

To discover all the delightful, romantic and inspiring articles in this section, visit the following pages...
| | | | |
| --- | --- | --- | --- |
| | Impotence and Women | | The Psychology of Impotence |
| | Impotence and Partners | | Female Sexual Dysfunction |
| | Women and Viagra | | Romance Quotes |
| | Love Quotes | | Romantic Love Quotes |